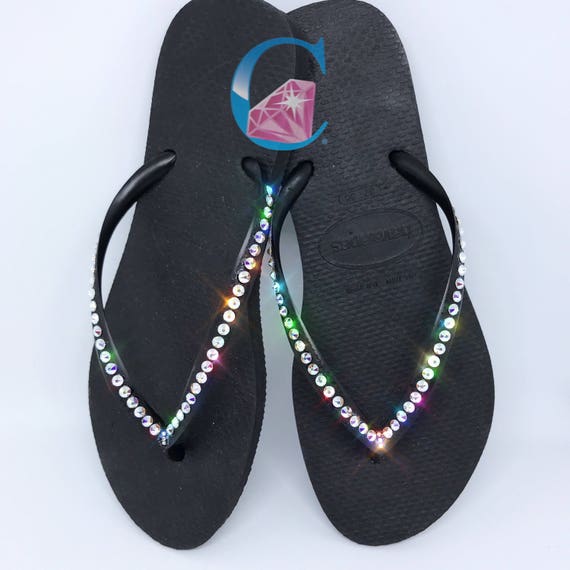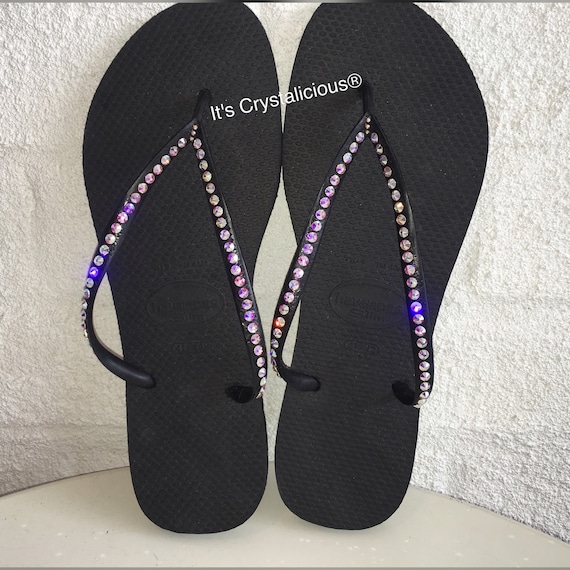 It's Crystalicious® Genuine Black Brazillian Havaianas with Thin Straps, covered with 1 Row of Crystals from SWAROVSKI®. - Crystal AB



These couture Brazillian Havaianas with Crystal (001 AB) has had the crystals attached by hand to the Thin straps with over 100 Crystals, by hand over several hours to produce an absolutely perfect, beautiful piece of art that looks spectacular!



All products produced by It's Crystalicious® are truely unique and made with the best crystals avaliable on the market, no other crystal sparkles like Crystals from SWAROVSKI®.



(The photo doesn't do this amazingly Sparkly pair of Havaianas any justice.)



Shoe Colour : Black



Design: 1 Row



Crystal Colour : Crystal AB (001 AB)



Your purchase comes with spare crystals.



Specifications:



* Brand New.

* Each order is uniquely made for each customer.

* 100% Handmade.

* Covered in Genuine Crystals from SWAROVSKI®.

* We are an Official SWAROVSKI® Branding Partner.

* Quality Products & Service.

* Free Postage - Australia Wide.



For more information or if you have any questions please don't hesitate to contact us via Conversation or info [!at] itscrystalicious.com



All items are carefully packaged & shipped by Australian Post.



Items are generally shipped within 7-10 Business Days, but some may take up to 21 Business Days depending on Crystal Colour avaliability.
Black Flops Thin In Strap AB 1 Flip Havaianas SWAROVSKI® Crystal Covered Bling Row